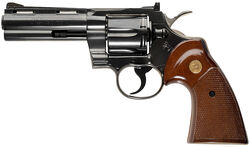 The Colt Python is an double-action revolver designed and manufactured by Colt's Manufacturing Company. It is famous in movies and video games.
History and features
Edit
The Colt Python was introduced in 1955 by Colt, it is an double-action revolver chambered for the powerful .357 Magnum cartridge. It features a precision adjustable sights, a smooth trigger, solid construction, and extra metal. The revolver is fed with 6 rounds in its cylinder and is available in different inchs (2.5, 3, 4, 6 and 8). The Python is also an weapon owned by many famous leaders, such as: King Khalid and Prince Fahd (Saudi Arabia), King Hassan (Morocco), Sheik Zayed (United Arab Emirates), President Anwar Sadat (Egypt) and President Hafez Assad (Syria). Thanks to its powerful chambering, it has also adopted by some law enforcement in and outside America. The weapon has ceased production in 2005, making it had become an collector item.
Variants
Edit
The Colt Python is available in Royal Blue and Bright Nickel finishes.
Appears in
Edit
Ad blocker interference detected!
Wikia is a free-to-use site that makes money from advertising. We have a modified experience for viewers using ad blockers

Wikia is not accessible if you've made further modifications. Remove the custom ad blocker rule(s) and the page will load as expected.